Akismet is a WordPress plugin that protects you from comment spam. This begs the questions: "What is Comment Spam?" and "Why do you need protecting from it?"
What is Comment Spam?
The bane of bloggers everywhere is an incipient form of spam known as comment spam. Comment spammers will post seemingly genuine comments to your blog posts which praise the quality of your blog post.

Seems harmless, right? It sounds like they love your blog! Unfortunately, you're being played.
Why Spammers Leave Comments
These commenters will include links to sketchy-sounding websites (such as 136710.claimapplewatch.com in the above example) on their commenting profiles. If comments are approved and published, they will provide that sketchy website with a backlink – which is an essential criteria in Google's famous PageRank algorithm.
The more comments they leave (and which you and other bloggers approve to be published), the higher their sketchy website could rank on Google organic searches. It doesn't matter to them if no one ever clicks on their link – just the fact that it is published on your site could be enough to generate higher organic rankings – and thus, more organic traffic.
The Real Annoyance
While you can moderate comments to prevent spammy comments from being automatically published, comment moderation can start to take a lot of time. Over time, you might start getting hundreds of comments a weeek – all of which need to be manually moderated. That's when spammy comments can really start to become a major annoyance.

Manually deleting comments is no fun at all. It takes time away that you could be using to create more awesome content!
Enter Akismet
Akismet will automatically send obvious comment spam into instant obscurity so you won't have to give it a second thought. You won't be bothered by 99.9% of comment spam again – and if Akismet isn't quite sure whether a comment is spam or not – it will give you the choice and let you decide.

Sound like a good deal? Ok – let's get it hooked up!
Activate Akismet
Akismet is pre-installed as a plugin for every UNI blog that we've created for this class. You'll just need to activate it by clicking on the blue "Activate" link in your Plugins directory.

Once you activate the Akismet plugin, you'll need to set up your account. This is a little tricky, so follow along closely!

Log in to Akismet using Google
Akismet uses WordPress.com account logins to authenticate – but we are not using WordPress.com and the last thing we need is yet another account to keep track of. Fortunately, you can also authenticate with a Google account – first click on "Already have a WordPress.com account? Log in now." link at the bottom of this page: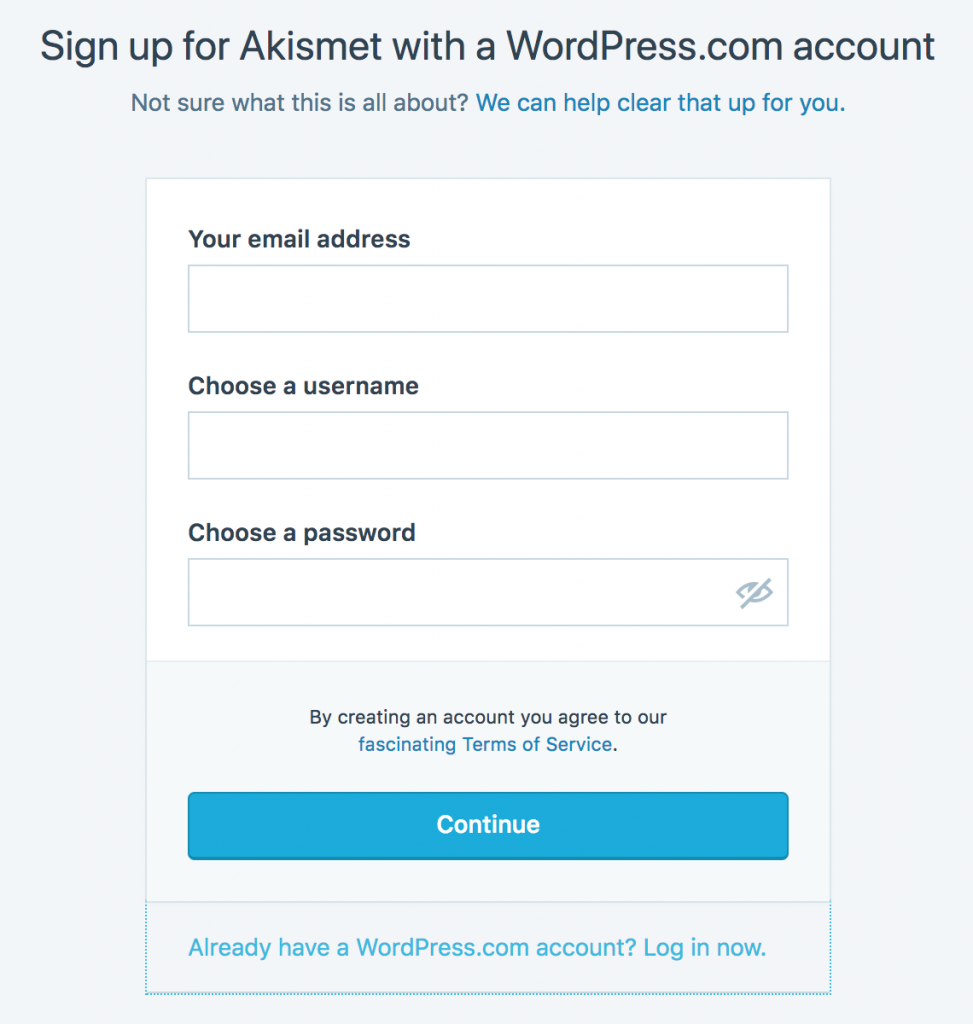 Ok, so that was a lie – we don't have a wordpress.com account. But look at the next page – it gives you the option to log in with your Google account at the bottom of the page!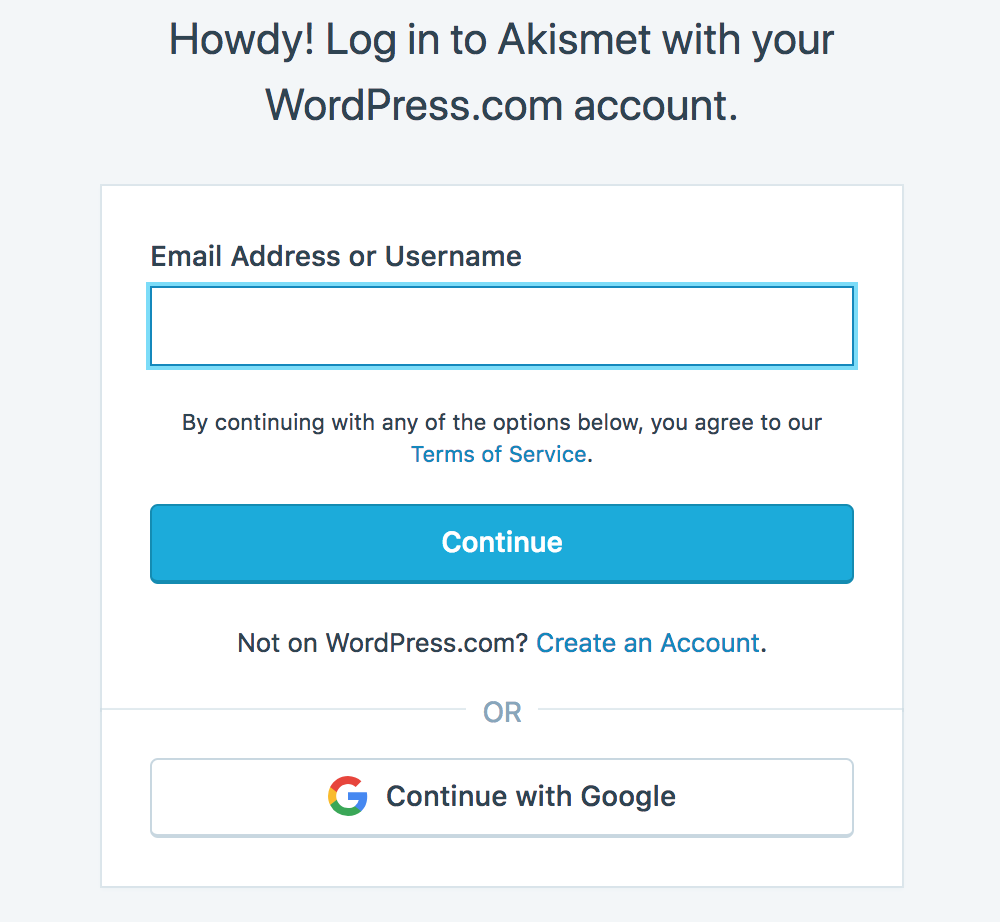 Name Your Price
Choose a pricing plan. When you get rich and famous you can get a commercial account and give Akismet big bucks for protecting you from comment spam. For now, just choose the Personal "Name Your Price" plan.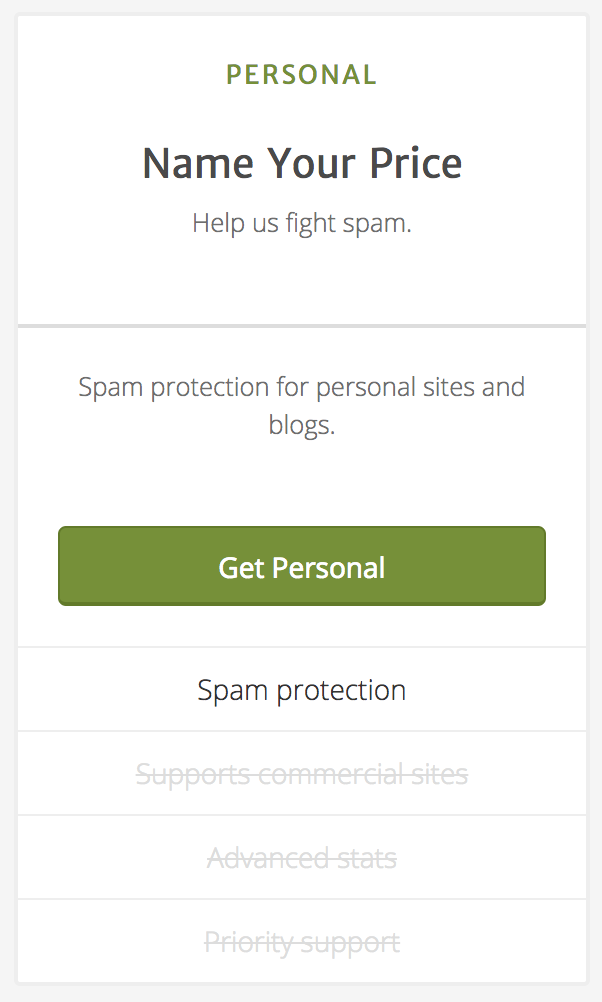 On the next page, it will allow you to name your price. Since you are a student and your blog is not a commercial business, choose $0.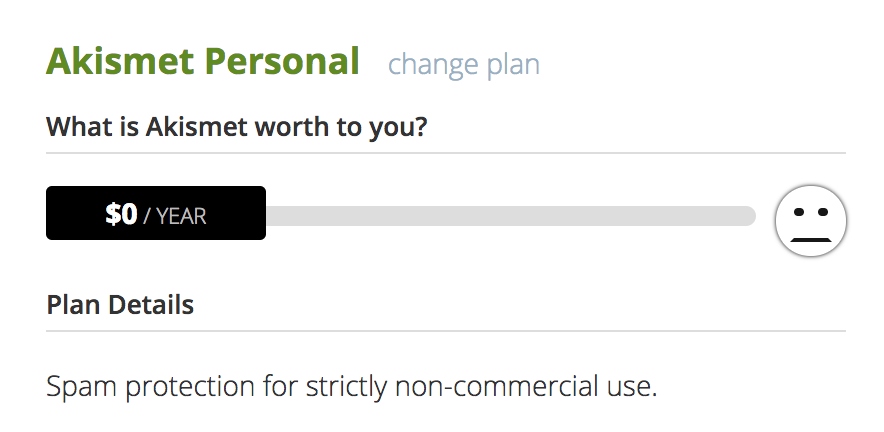 Activate Your Site and Enter Your API Key
Logged in? Good. Now you'll be asked to "activate" your site and may need to enter your blog URL. Once you do so, you will receive your very own Akismet API key, which you can now enter in WordPress: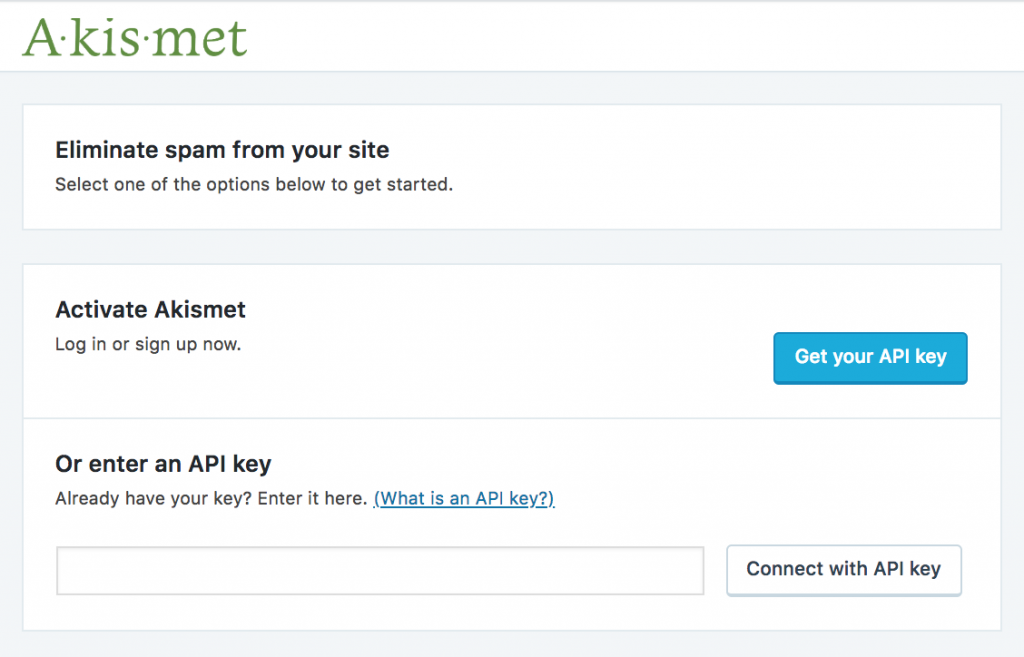 Enter your API key and click "Connect with API key". Akismet will now be active and will start blocking spam immediately. If you're curious, you can check in from time to time and see just how much spam Akismet is blocking.