Before you start working in Photoshop, save yourself time and effort by finalizing your wireframes. It's a lot easier to quickly change your hand-drawn wireframe sketches than modify a Photoshop file!
Once you have your wireframes where you want them, here are links to some design templates for Adobe Photoshop to help you create the pre-visualizations:

Teehan + Lax iPhone 6 Template
Updated Photoshop template for iOS 8 and iPhone 6 from Digital Experience agency Teehan + Lax.

Teehan + Lax Android Template
Photoshop template for Android devices (also from Teehan + Lax). This one is a little outdated, but still useful.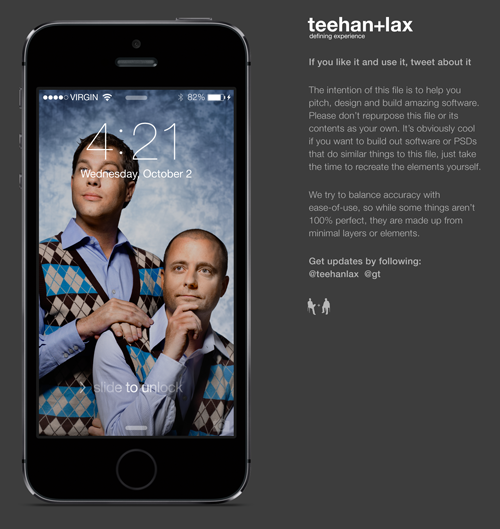 If you like these templates, give a shout out to @teehanlax on Twitter. They'll appreciate it.

– – –

If these templates don't work for you (or if you are averse to sweater vests), here are a few other sources to try:

9 Highly Recommended Free Android UI Kit PSDs
Choose one that works for you. From TwelveSkip, the blog of Web designer Pauline Cabrera.
Smashing Magazine iPhone PSD Vector Kit
Photoshop template with many of the iPhone 4 UI graphics. This is a little out of date. From the awesome web publication Smashing Magazine.

If none of these work for you, try searching Google for "iPhone PSD template" or "Android PSD template".

– – –